Simple & Cheap Wireless Barcode Reader: RT105
This is a Cheap Wireless Barcode Reader with Screen and memory, if you just need a simple wireless reader but not an PDA barcode reader, then this is your good choice! The RT105 with build-in battery, memory and screen, communicate via 433MHz ISM band and transmit data in distance that ever 100 meter away(indoor) and more than 500 meters outdoor.
Features
Build-in LCD displayer, build-in battery
Up to 500meters(outdoor) communication distance
Easy to use
Small and portable
High speed: 200times per second
Suitable for warehouse management, logistic and production lines management
Send Inquiry
Description
Tech Specs
Catalog Download
Simple & Cheap Wireless Barcode Reader: RT105
It is a wireless barcode reader, the reader works together with a receiver which connected with computer, the reader and the receiver communicate each other by 433MHz radio frequence, the decoded data is transmited from the reader to the receiver, then uploaded and displayed in computer.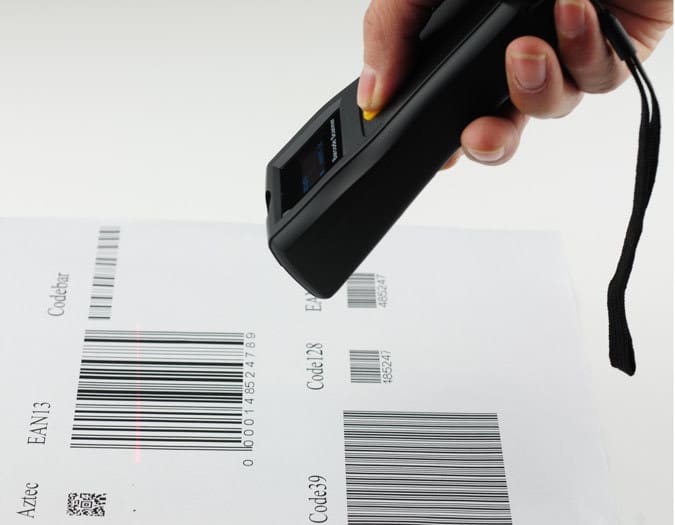 Function

Paramete

Working band

433MHz ISM band

Receiver interface

USB-HID, RS232,RS485, PS2

Displayer:

Max 48 bytes

Communication distance

up to 500 meters outdoor, indoor 100 meters

Light Source Type

650nm Visible laser VLD

Use Mode

Hand-held

Safety Performance

CE Class 1:EN60825-1

Barcode Type

EAN-8,EAN-13,UPC-A,UPC-E,Code 39,Code 93,

Code 128,EAN128,Codaber,Industoal 2 of 5,

Interleave 2 of 5,Matrix 2 of 5,MSI, etc.

Scanning Mode

Line scanning

Resolution (pcs0.9)

Minimum 0.10mm(4mil)

Depth of Field

15-600mm (pcs0.9)

Reading Speed

100 times/second

mention pattern

buzzer indicator

Reading angleof elevation

60°

Reading angle of dip

45°

Operating temperature

0 ℃—505℃

Storage temperature

-40 ℃—60℃

Operating humidity

5%-85%

Storage humidity

5%-85%

Power supply

5V (Built-in high capacity 1200mA lithium battery,

a charge for more than 10 hours of continuous work)

Exterior dimension

L x W x H:122mm x 57mm x 29mm

Weight

102g

Weight

109g
Reading distance range

5mil

35-110mm

10mil

15-280mm

13mil

20-320mm

16mil

35-360mm

35mil

150-625mm
Customization acceptable