Ethernet Wiegand NFC and 2D Barcode Scanner: RTMU86
Specification

✔️1D & 2D barcode reading

✔️NFC card reading

✔️Automatic reading

✔️12v-24v input

Connection

🔌 RS485 ✹

🔑 Wiegand ✹

🌐 Ethernet ✹

Features

🚀 Holder design to install it to wall directly by screws

🚪 With a built-in relay to control the locker directly without using the access control panel.

🔐 Working with ZKTeco access control panel via Wiegand interface for access control.

✂️ To pick up specified digits/data among all output data

(✹Optional)

Certificate

CE、RoHS
Contact Us Now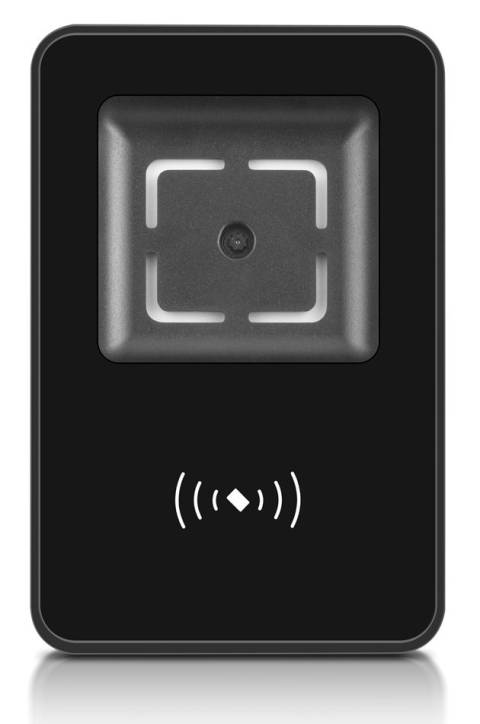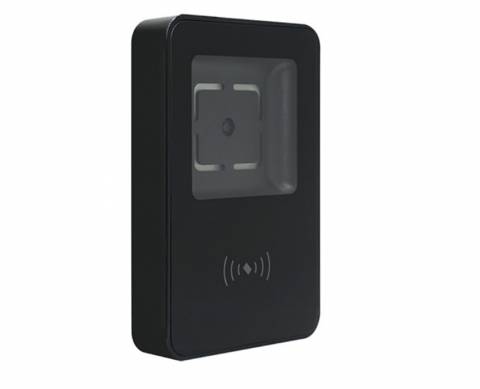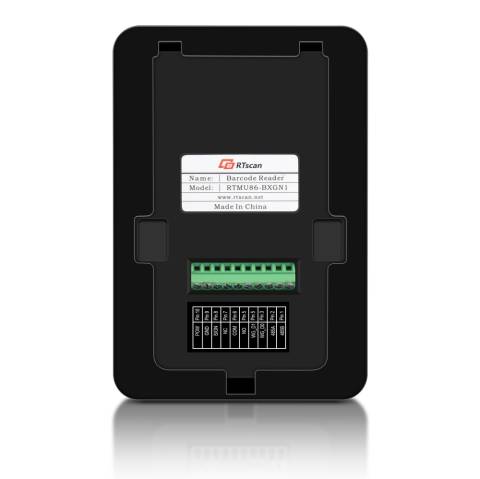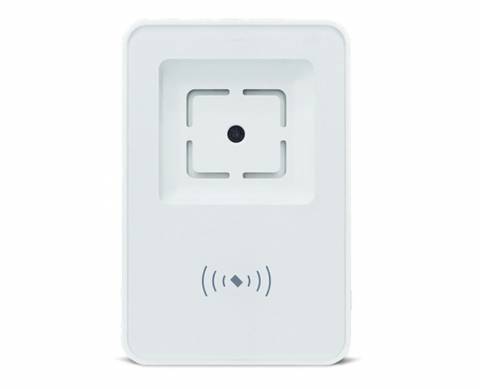 Slide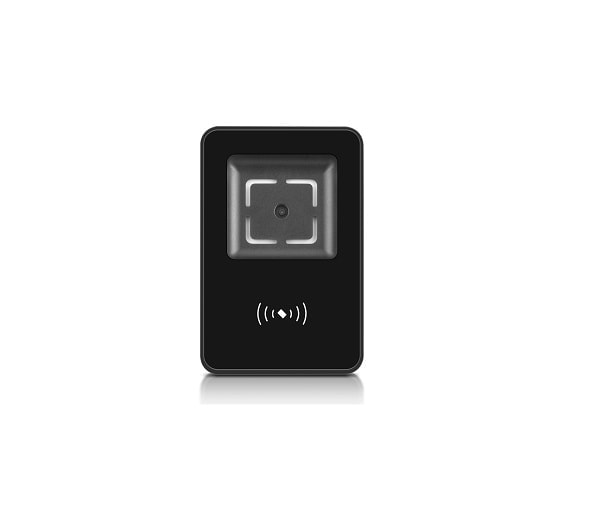 RT-MU86-wiegand-barcode-reader-3.jpg
RT-MU86-wiegand-barcode-scanner
RT-MU86-wiegand-NFC-barcode-scanner





Video Guide for Connection and configuration
Ethernet Wiegand NFC and 2D barcode Scanner: RTMU86
RTMU86 is a new generation Wiegand NFC 2D barcode scanner which combines Wiegand, Ethernet, NFC reader and barcode reader all in one.
It is ideal to use for all kinds of access control projects. It has not only high reading performance but also a very cost-effective price.
It reads well most 1D & 2D barcodes such as QR code, PDF417 code, Aztec etc from LCD screen, paper, tickets.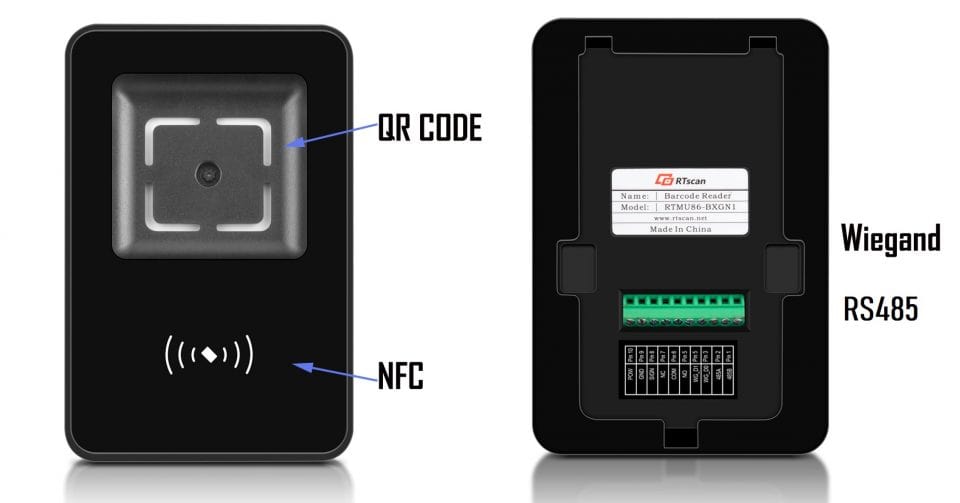 Integration
To facilitate your integration, we provide Screws and Holder. The reader can be fixed on the holder and the holder
can be installed in the wall easily and tightly via 2 screws.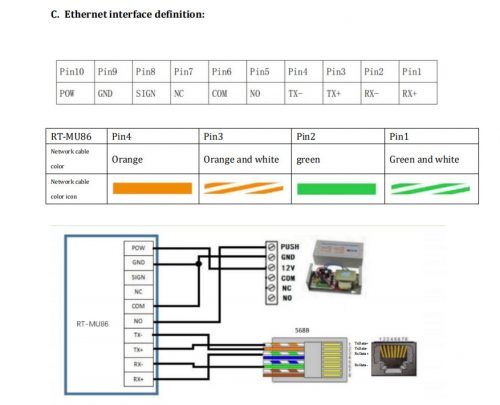 *RTMU86 Ethernet pinout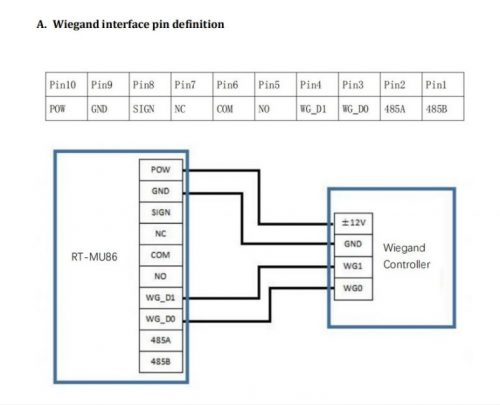 *RTMU86 Wiegand pinout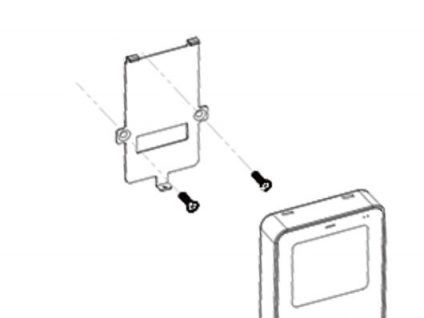 Integration Accessories
To facilitate our customer integration, we provide Screws, Dupont cable, and Holder. The holder design for easy installation. Just fix the holder in the wall via 2 screws, then fix the reader in the holder and lock it by the screw from the bottom, done.
Control the Wiegand and Ethernet barcode scanner by the access controller
For example, we can control personnel access by using an access controller. We provide a detailed introduction to let you know how to set up the controller. Ask our people to get full documents.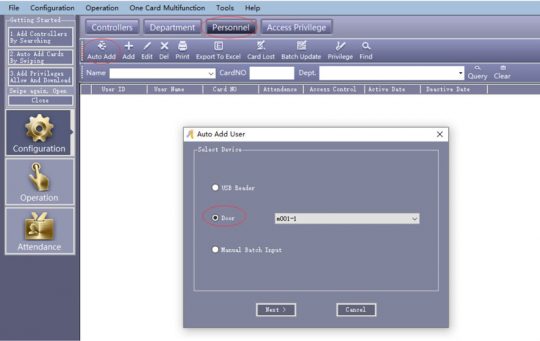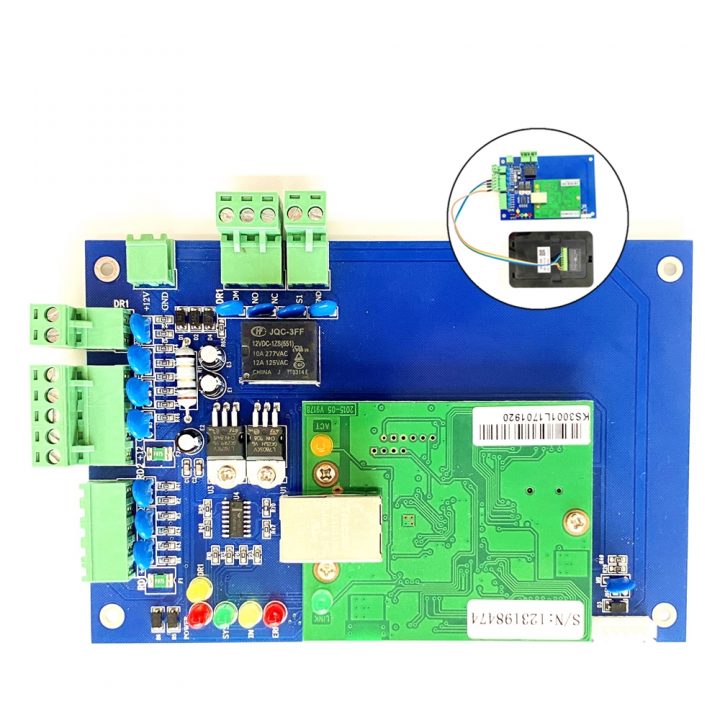 * Access controller
Recommended access controller
We highly recommend that you buy barcode scanner together with the access controller we have already set up. We can set the controller according to your needs before shipping.
Tech Specs
Performance

Image Sensor

640 * 480 CMOS

Reading distance

0-10cm (differ for different size code )

Reading speed

100ms per scan

Scanning window

60*56mm

Symbologies

2D

QR Code, PDF417, Aztec,etc.

1D

EAN-13 ISBN-10, CODE_39,CODE_93,CODE_128,ITF, etc.

Scan Mode

Sense mode: detect and read automatically

Scan Angle

Roll: 360°, Pitch: ±63.5°, Skew:±59.5°

Field of View

Horizontal 72°, Vertical54°

Resolution

≥7mil

Min. Symbol Contrast

25%

Mechanical/

Electric

Interface

RS485, Wiegand, Ethernet (Built-in Relay)

Dimensions

132mm*88mm*21mm

Weight

200g

Notification

Buzzer, Blue\white state indicator light, Red\green read indicator light

Operating Voltage

12V-24V

Current

100mA (Typically 12V)

NFC

13.56Mhz ID card

Only supports reading the physical card number.

Mifare_Ultra Light、Mifare_Ultra Light 01, Mifare_One(S50), Mifare_One(S50) 02, Mifare_One(S70), Mifare_One(S70) 03, Mifare_Pro(X), Mifare_Pro(X) 04, Mifare_DESFire, Mifare_DESFire 05

Environmental

Operating Temperature

-20℃ to 70℃

Storage Temperature

-40℃ to 80℃

Humidity

5% to 95% (non-condensing)

Environment illuminance

0~80000LUX (not direct sunlight)
Application:
Can be widely used for all kinds of access control applications.
Office victors access control
Building access control
Factory access control
Museum
Tourist sites
School
...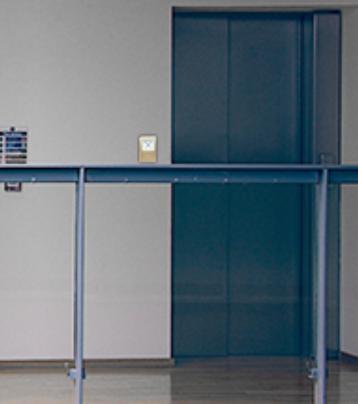 Ask A Sample To Test Now!