Barcode Scanner:RT206
—Ultra Small 2D OEM Barcode Scanner Module For General Use
Connection

🔌 TTL-232

⌨️ USB EVK kit✹

🖨 RS232 EVK kit✹

Specification

✔️1D&2D barcode (QR,DM etc)

✔️Decoder board and imager two in one

✔️Automatic reading & Command trigger

Features

💻 Windows, Linux, Ardroid, Arduino, Raspberry PI

🚀 Super fast barcode reading from LCD screen and paper

📱 Application : POS, Locker, Medical device, Self-service terminal

(✹Optional)
Contact Us Now!
Click the video to watch it's excellent performance to read different bar codes from paper and phone screen.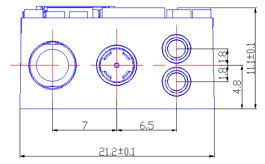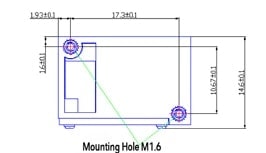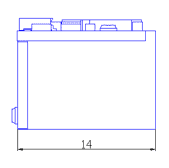 Ultra Compact, with decoder board and imager 2-in-1
The RT206 is a quite compact and light weight scanner engine which fits easily into even the space-constrained device such as data collectors, meter readers, ticket validators and PDAs.
integration
We provide 3D-Drawing, integration Guide which support your easy and quick integration work with your terminals.
Contact our sales people to get the full documents.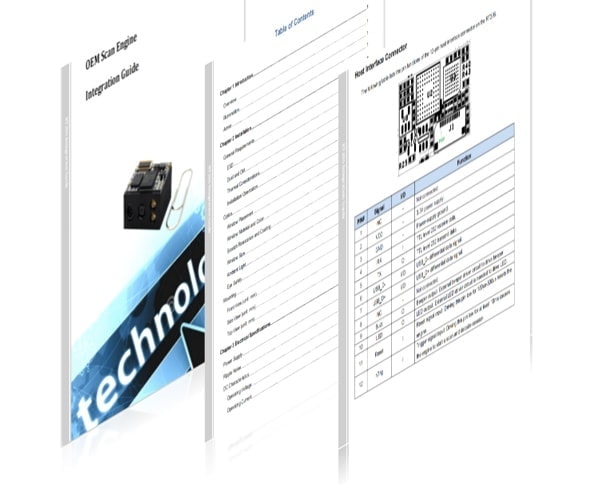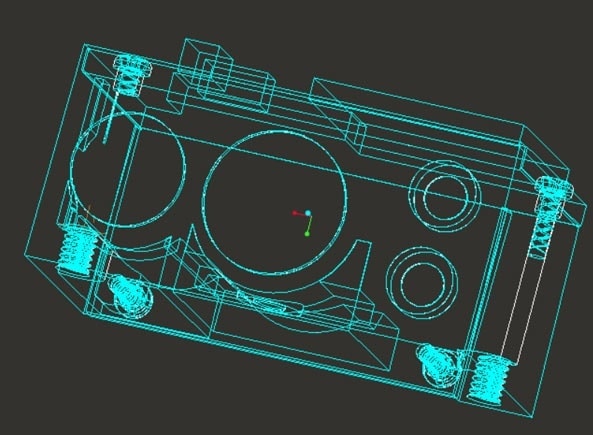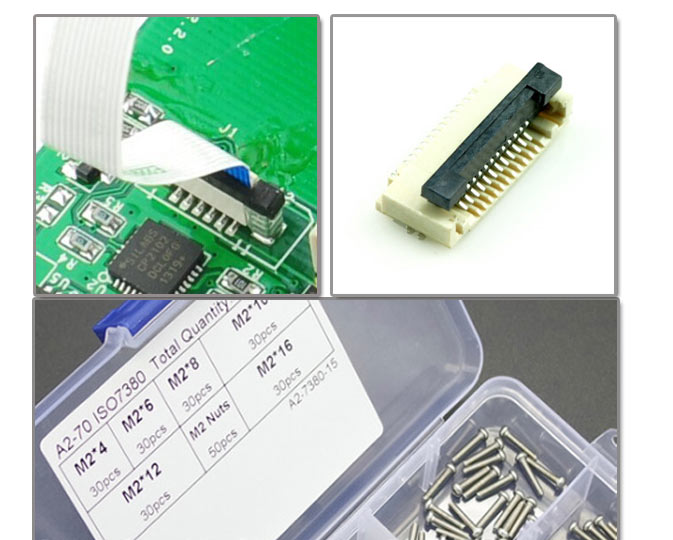 Integration Accessories
To facilitate our customer integration, we provide Screws, Flat cables, Connectors, USB/RS232 EVK (We also call it development kit board) and their schematic. But they are all optional, you can tell our sales people do you need them or not when you place order.
Control the barcode scan module by commands
For example, we can control the scanner's read/illumination... by sending commands to the scanner. We provide a detailed introduction to let you know how to do the command control. Ask our people to get full documents.
And we also provide Video presentation to show you how to do the commands programming, click here to see the video.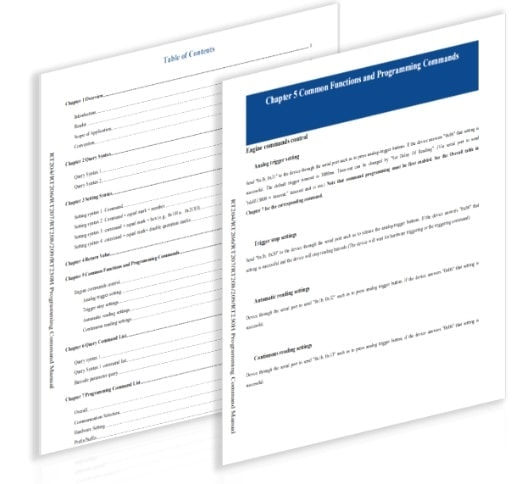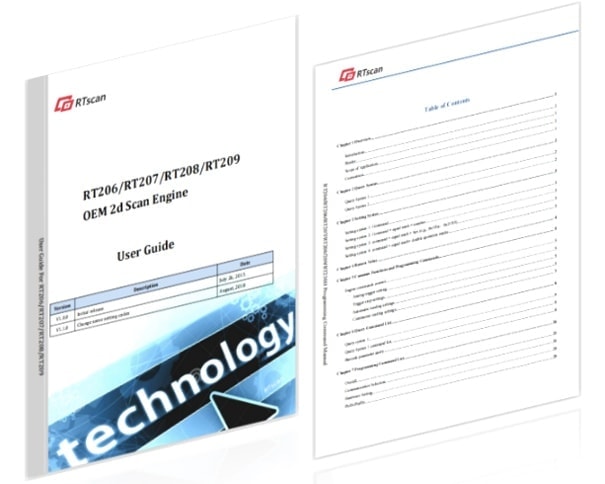 Setting Codes Programming
To program/ setup the scanner module, you can just simply do it by setting codes from the User manual we provide. Remember to read the "Enter setup" code when you begin to setup. Please ask our sales people for the full detailed user manual.
We also provide video guide to show you how to setup the scanner module by setting codes. Click here to watch the video.
Performance
Image Sensor
640×480 CMOS
IlluminationAiming
Red LED 625±10 nm Red LED 625±10 nm
Symbologies
2D: PDF417, QR Code (QR1/2, Micro), Data Matrix (ECC200, ECC000, 050, 080, 100, 140), Chinese Sensible Code
1D: Code 128, UCC/EAN-128, AIM128, EAN-8, EAN-13, ISBN/ISSN, UPC-E, UPC-A, Interleaved 2 of 5, ITF-6, ITF-4, Matrix 2 of 5, Industrial 25, Standard 25, Code 39, Codabar, Code 93, Code 11, Plessey, MSI-Plessey, GS1-DataBarTM(RSS), (RSS-14, RSS-Limited, RSS-Expand)
Resolution
≥5mil (differ from different bar codes)

Typical Depth of

Field*

EAN-13 50mm-365mm (13mil)
Code 39 40mm-165mm (5mil)
Data Matrix 35mm-115mm (10mil)
QR Code 35mm-145mm (15mil)
PDF 417 45mm-115mm (6.67mil)
Symbol Contrast
≥25%
Scan Angle
Roll: 360°, Pitch: ±60°, Skew: ±60°
Field of View
Horizontal 44°, Vertical 33.2°

Mechanical

/Electrical

Interface
TTL-232, USB (HID-KBW, COM Port Emulation, HID-POS)
Rated Power Consumption
330mW (typical)
Operating Voltage
3.3 VDC±10%
Current@3.3VDC
Operating 100mA (typical), 168mA (max.)
Standby 8.1mA
Sleep ≤100uA
Dimensions
21.2(W)×14(D)×11.1(H)mm
Weight
4g
Environmental
Operating Temperature
-20℃ to 60℃
Storage Temperature
-40℃ to 70℃(-40°F to 158°F)
Humidity
5% to 95% (non-condensing)
Ambient Light
0~100,000lux
Certifications
FCC Part15 Class B,CE EMC Class B

Accessories
EVK
Software development board, equipped with a trigger button, beeper, and RS-232 or USB interfaces(USB-HID or USB-Virtual Com, cable is different ).
Cable

USB: Used to connect the EVK to a host device.

RS-232: Used to connect the EVK to a host device.

Power Adapter
DC5V power adapter used to provide power for the EVK board
Not suitable? Check others:
Models
RT203
RT206
RT208
RT212
RT214
Read QR/1D Codes
Yes
Yes
Yes
Yes
Yes
Read From Phone Screen
Yes
Yes
Yes
Yes
Yes
Decoder board & imager built together
Yes & No
Yes
Yes
Yes
Yes
Read Long PDF417 from ID documents
Yes
Read Maxicode & Aztec
Yes
No
No
No
No
Ultra-small & Ultra-low Power Consumption
Yes
Compatible with Arduino via Dupont/ TTL-232 EVK board
Yes--Green board
Yes--Green board
Yes--Green board
No

---------------

Yes --Blue board
Compatible with Arduino via USB EVK board
Yes
Yes
Yes
Yes
Yes
Compatible with Raspberry Pi Via USB EVK board
Yes
Yes
Yes
Yes
Yes
Compatible with Raspberry Pi Via Dupont/ TTL-232 EVK board
Yes
Yes
Yes
Yes
Yes
Ask A Sample To Test Now!