Arduino barcode scanner: connect oem barcode scanners modules with Arduino microcontroller (MCU)
If you are using Arduino microcontroller to develop your system and need a 1d/ 2d OEM barcode scanner module at the same time, then this article would be helpful for you: here we introduce how we connect the Arduino Uno microcontroller with RTscan OEM barcode scanner modules and how to make them work each other.
When we try to integrate an OEM barcode scanner with Arduino microcontroller board, we would meet these problems:
The OEM barcode scanner with 12pins TTL interface, but Arduino board without this type connector, then how can we connect them together?
Whatever OEM barcode scanners we choose, how can we control the barcode scanner by Arduino and also upload decoded data to Ardunio system?
Read below and find how RTscan provides solutions for above questions.
Part I: Introduction of Arduino UNO and RTscan barcode scanner
Arduino UNO:
The UNO is the most used and documented board of the whole Arduino microcontrollers family, many people choose this model for their projects. Arduino Uno has 14 digital input/output pins (of which 6 can be used as PWM outputs), 6 analog inputs, a 16 MHz quartz crystal, a USB connection, a power jack, an ICSP header and a reset button. It contains everything needed to support the microcontroller.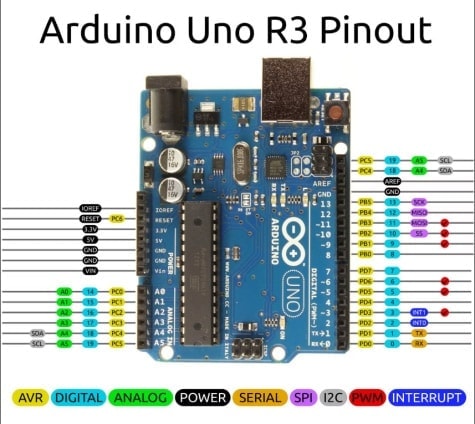 Arduino UNO Pinout
And for our application to connect with oem barcode scanner, we need the 3.3V (or the 5.0v) power supply pin, and GND pin, RXD, TXD pins.
RTscan OEM barcode scanners: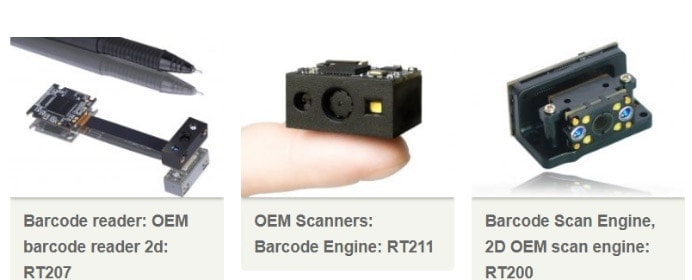 In this article, we choose the RT203 as an example to do the connection and integration.
They all with 12pins connector and TTL signal, and use FFC cable and connector like this :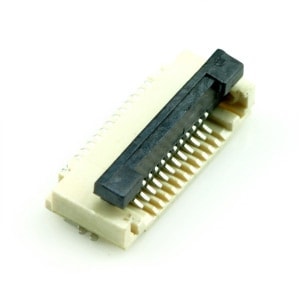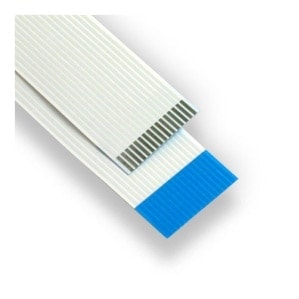 Part II: Connection solutions:
RTscan provides three types of solutions:
Solution1: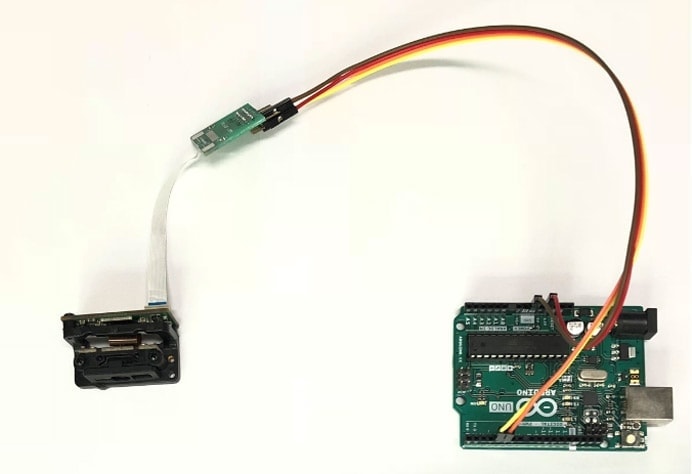 There is no buzzer in this solution and you can add buzzer by yourself in your system.
This is a most simple solution, just connect the 3.3V power supply, GND, RX and TX pins.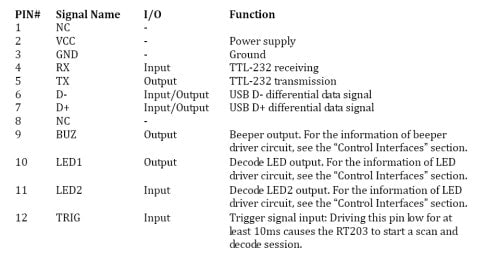 RT203 Pinout
| | |
| --- | --- |
| RT203 | Arduino UNO |
| Pin2 VCC | 3.3V |
| Pin3 GND | GND |
| Pin4 RX | Pin5 |
| Pin5 TX | Pin4 |
Solution 2:
Add a buzzer in this solution, connect the 3.3V power supply, GND, RX and TX pins for the oem barcode scanner, and connect 5.0V power supply, GND and buzzer signal pin for the buzzer.
Solution 3:
We embed the buzzer in the EVK board, and just connect the 5.0V power supply (the EVK need 5.0v power supply), GND, RX and TX pins.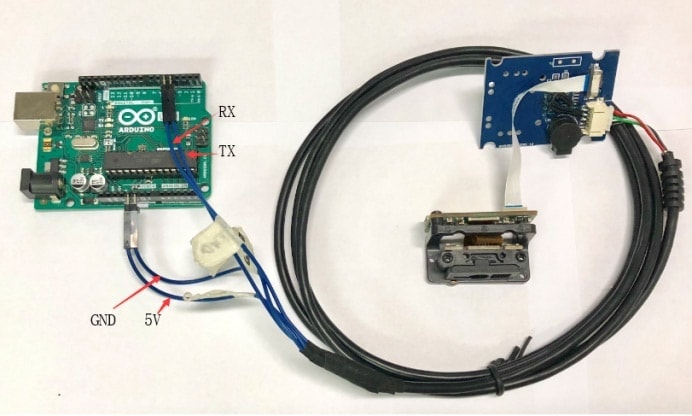 Part III, SDK/ Control the oem barcode scanner module via Arduino system: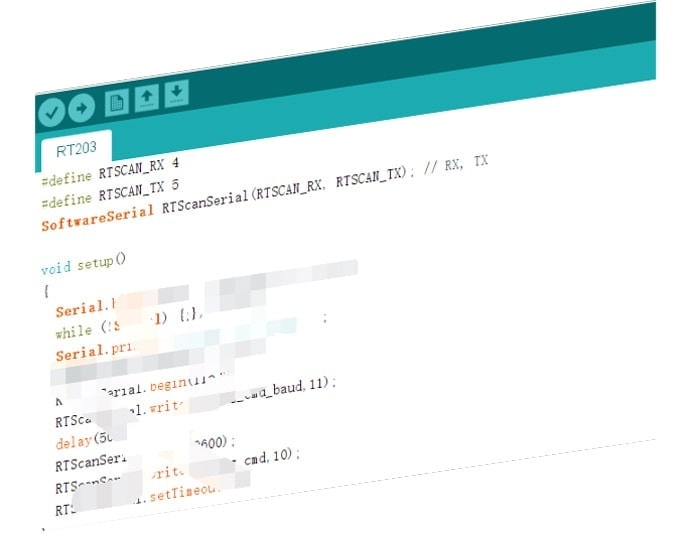 We developed the SDK to work with our scanners, this way, you can copy our source codes and program your system very quickly and no need to write the whole code one by one; save your time and speed up your integration work!
If you are using Raspberry Pi , please read: Raspberry Pi barcode scanner
We developed SDK for most of our oem barcode scanners, includes RT203 RT206 RT207 RT208 RT209 RT211 RT830B, if you want to learn more about them, please view below: