High Speed Hand-free 2D Bar Code reader: RT860
RTscan's new generation hand-free and super-fast desktop 2D bar code reader with large scanning window in 2018.
Features
Super large scan window

Super high scanning speed: around 120 frame per second

Hand-free and automatic scanning operation

Support almost all types 1D & 2D bar codes, including QR, Data Matrix, PDF417, Aztec, etc.

Excellent performance for both paper bar code and phone screen bar code reading.
Description
Tech Specs
With large area scanning window, super-fast scanning speed and optimized sensing technology, RT860 can capture and read bar code very easily, no matter read from phone screen or products package. RT860 can read most general 1D, 2D bar code like Aztec, QR, Data Matrix code, EAN, code39, etc. It's designed for hand free use, place the bar code near to the scanning window, the RT860 will detect and decode the bar code automatically and quickly.
RT860 is a very ideal 2D bar code reader for application of desktop use. For example: supermarket, restaurant, hotel, bars, movie stores, banks, airport, bus/train station, hospital.
If you need a 2D bar code reader that can read bar codes very quickly so that customers or guests do not need to wait for a long time (like in supermarket or airport), RT860 will be your very good choice!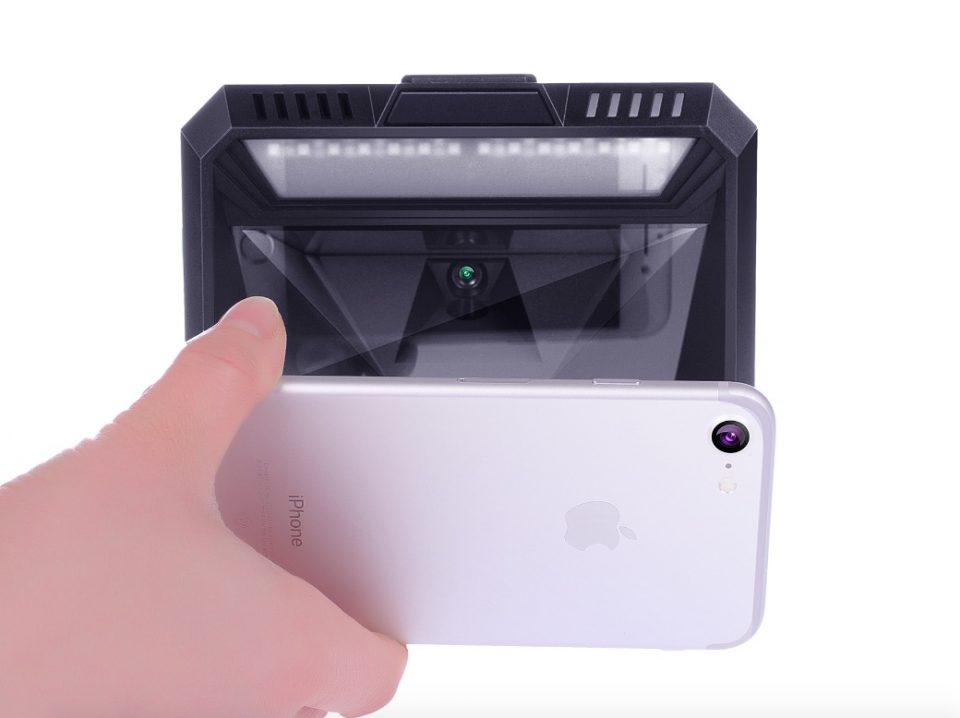 | | |
| --- | --- |
| Mechanical | |
| Dimensions (LxWxH) | 152mm x 149mm x 80mm |
| Weight | 376g |
| Host System Interfaces | USB, RS232 |
| | |
| Scan Performance | |
| Scan Pattern | Area Imaging |
| Reading Precision | ≥ 5mil |
| Field of View: | 45°(H)x 35° (V) |
| Roll / Pitch / Yaw | 360°, ±65°, ±60° |
| Motion tolerance | Up to 60cm per second |
| Print contrast | ≥ 25% |
| Decode Symbologies | 1D: UPC-A, UPC-E, EAN8, EAN13, ISSN, Telepen, China Post, Trioptic Code, Code128, GS1-128, ISBT 128, Code 39, Code 39 Full ASCII, Code 32, Code 93, Code11, Matrix 2 of 5, |
| | 2D: QR, DataMatrix, PDF417, Aztec, Hanxin etc. |
| Electrical | |
| Input Voltage | 5 VDC |
| Current | 500mA |
| Aiming& illumination | 650nm LED |
| | |
| | |
| Environmental | |
| Operating Temperature | 0°C to 50°C |
| Storage Temperature | -40°C to 70°C |
| Humidity | 0% to 95% relative humidity, non-condensing |
| Drop | Designed to withstand 1.5m(5')drops |
| Ambient Light Immunity: | up to 100,000 Lux. |
| | |
| Decode Ranges | |
| Symbol & Density | HD Focus |
| Code 39 (5 mil) | 0mm-60mm |
| 100%UPCA (13 mil) | 0mm-200mm |