Rugged Biometric PDA: Handheld Biometric Scanner With FBI And FIPS Sensor: IDE100
The IDE100 is a IP65 rugged biometric PDA terminal, which integrated with the FBI and FIPS biometric fingerprint scanner. It use the industrial rugged gorilla glass, with 5.0 inch TFT touch screen which is super sensitive and readable under sunlight, and also can be easily operated by wet fingers or using gloves. The terminal has the high specification including 2GB RAM/16GB ROM memory, Android 5.1 OS, quad-core CPU, 4G-FDD, 8.0MP rear camera, FBI & FIPS certified fingerprint scanner from CrossMatch and ICAO9303 OCR-B MRZ reader (machine readable zone). It is a new generation handheld biometric scanner terminal with state of the art technology.
The IDE100 is an ideal terminal for mobile biometric enrollment and verification solution, which used for mobile identity verification and identification applications:  Police Force, Military, border Control, Immigration bureau, hotel quick check-in/check-out, car-rent store, tax free shop, foreign currency exchange store and so on.
The FBI and FIPS sensor is an optional, if we don't need the fingerprint sensor, we can use the IDE100 for logistics, retails, warehouse, etc. It equipped with currently most advanced technology like 4G, Android 5.1, Corning Gorilla III glass, and Honeywell best performance 2d imager N6603, which make it can be your good choice for high level requirement solutions.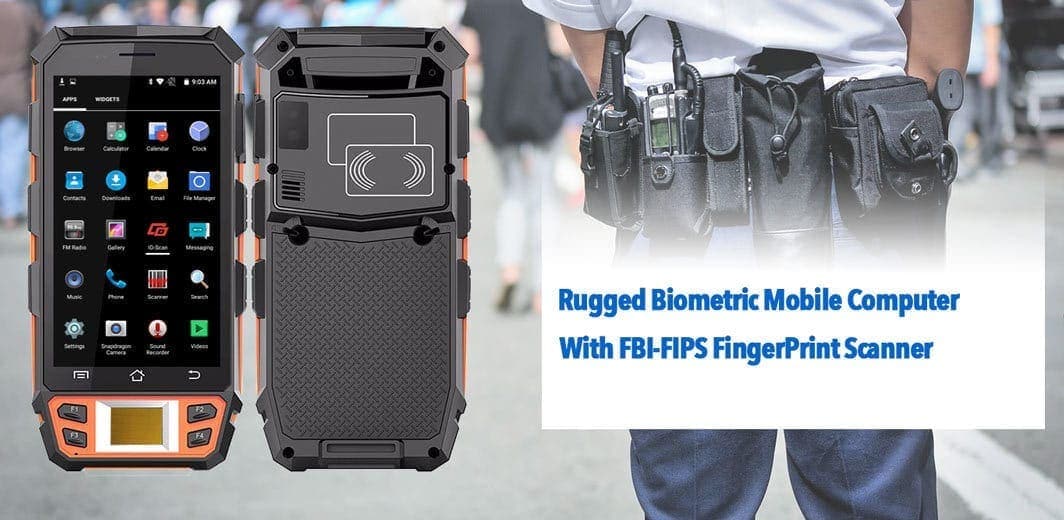 Features:
FBI / FIPS Fingerprint Scanner:
TCS1CM, Capacitive, 508dpi, FBI certified, FIPS-201 compliant 18mm*12.8 imaging area.
Communication:
4G: TDD-LTE B38/B39/B40/B41 FDD-LTE B1/B2/B3/B4/B7/B17/B20 WIFI, Bluetooth, GPS.
MRZ ID / Passport Read:
Content: MRZ (machine readable zone);
Standard: ICAO 9303 compliant documents (passport, visa, ID card) and ISO 18013 compliant documents (driver's licenses);
Read Speed: around 1 second.
Powerful data collection:
1D or 2D scanner(optional), 8MP rear camera and 2MP front camera; RFID/NFC(optional), Fingerprint scanner, MRZ OCR-B reading for ID /passport (optional).
Rugged design with industrial reliability:
Stylish design, modern appearance and reliable quality;
IP65 rating; Internal structure built with magnesium alloy for maximum durability, welcomed for military use.
Highly optimized power design:
3.7V, 4500 mAh battery with low power electronics, supporting long time operation; POGO PIN design for quick and non-intrusive charging which can prolong the device life span and durability.