Terminal portátil de identificación con lector de huella FBI/ FIPS: IDE100
El IDE100 es un robusto IP65 terminal portátil biométrico, que se integra con el lector biométrico de huellas de FBI y FIPS. Se utiliza el vidrio resistente industrial de gorila, con una pantalla táctil de 5.0 pulgadas TFT que es super sensible y legible funcionando bajo la luz del sol, y también puede operar fácilmente con los dedos húmedos o con los guantes. El terminal tiene la especificación alta incluyendo la memoria de RAM de 2GB/ ROM de 16GB, el sistema operativo Android 5.1, el CPU quad-core, la 4G-FDD, la cámara trasera de 8.0MP, el escáner certificado por FBI y FIPS de CrossMatch y el Lector de OCR-B MRZ de ICAO9303 (la zona legible por máquinas). Es un terminal portátil de lector biométrico de nueva generación con tecnología de vanguardia.
El IDE100 es un terminal ideal para la solución móvil biométrica de la inscripción y de la verificación, lo que se utiliza para las aplicaciones de la verificación de identidad y de la identificación móviles: Fuerza de policía, Militar, Control de fronteras, Oficina de inmigración, Registro rápido para el hotel, Tienda de alquiler de coches, Tienda libre de impuestos, Tienda de cambio de moneda extranjera, etc..
El sensor de FBI y FIPS es opcional, si el sensor de huellas dactilares no es necesario, podemos utilizar el IDE100 para logísticas, tiendas, almacenes, etc.. Se equipa con la tecnología más avanzada como 4G, Android 5.1, el vidrio Corning Gorilla III, y el 2D lector N6603 de Honeywell con el mejor rendimiento, todo los estos hacen este terminal ser su buena opción para las soluciones de requisitos de alto nivel.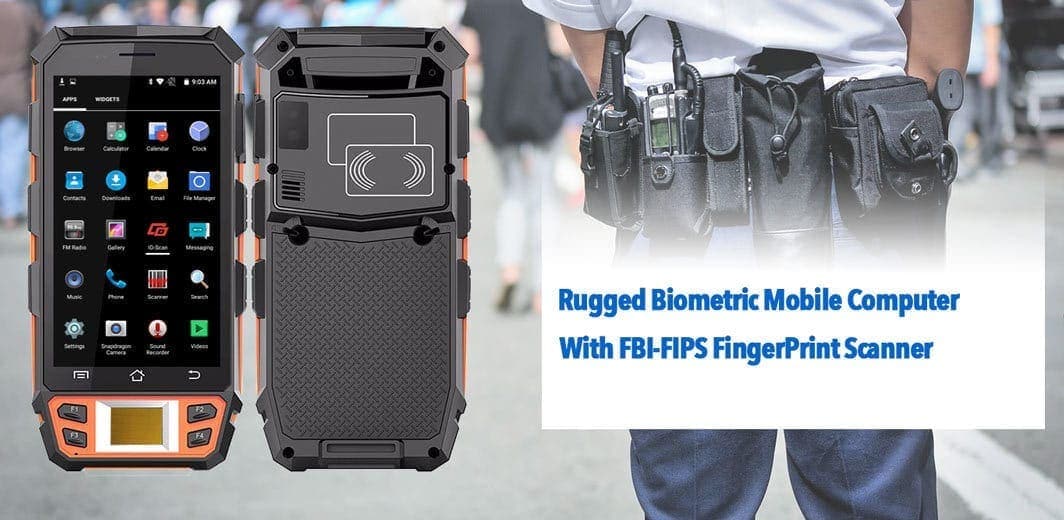 Features:
FBI / FIPS Fingerprint Scanner:
TCS1CM, Capacitive, 508dpi, FBI certified, FIPS-201 compliant 18mm*12.8 imaging area.
Communication:
4G: TDD-LTE B38/B39/B40/B41 FDD-LTE B1/B2/B3/B4/B7/B17/B20 WIFI, Bluetooth, GPS.
MRZ ID / Passport Read:
Content: MRZ (machine readable zone);
Standard: ICAO 9303 compliant documents (passport, visa, ID card) and ISO 18013 compliant documents (driver's licenses);
Read Speed: around 1 second.
Powerful data collection:
1D or 2D scanner(optional), 8MP rear camera and 2MP front camera; RFID/NFC(optional), Fingerprint scanner, MRZ OCR-B reading for ID /passport (optional).
Rugged design with industrial reliability:
Stylish design, modern appearance and reliable quality;
IP65 rating; Internal structure built with magnesium alloy for maximum durability, welcomed for military use.
Highly optimized power design:
3.7V, 4500 mAh battery with low power electronics, supporting long time operation; POGO PIN design for quick and non-intrusive charging which can prolong the device life span and durability.