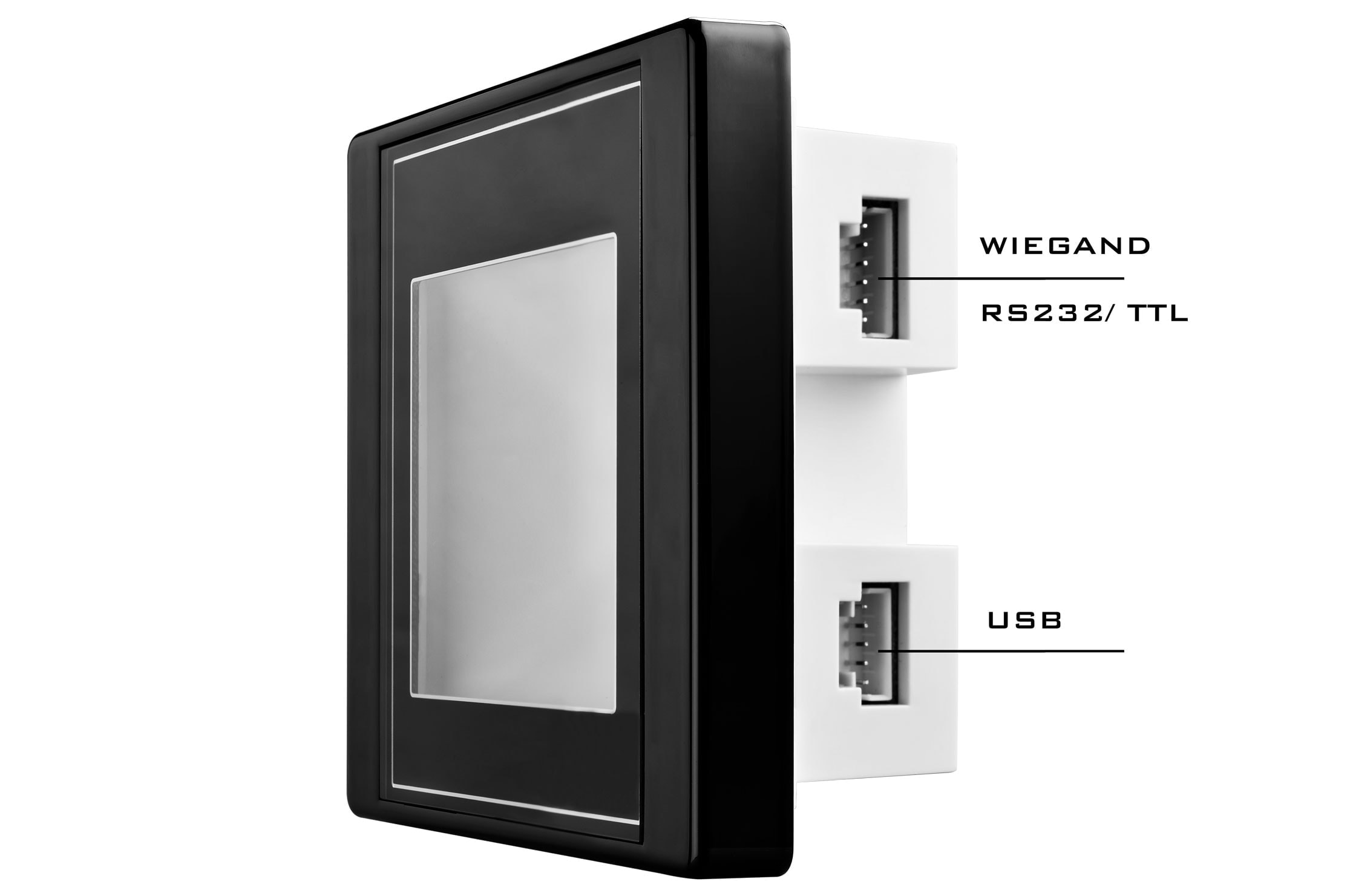 NFC and 2D Barcode Scanner > RT840
NFC reader, barcode scanner, two-in-one scanner terminal, USB, RS232, RS485, Wiegand interface.
NFC reader inside (optional)
USB, RS232, RS485, Wiegand 26 & 34
1D & 2D barcode scanner, such as QR code, DataMatrix code, Code 39, etc.
Hand-free and automatic scanning operation
Ideal for access control application
Easy Installation Wiegand Interface NFC & Barcode Reader > RTMU86
NFC reader, barcode scanner, two-in-one scanner terminal, RS485, Wiegand interface, easy to be fixed & installed. This RTMU86 is a 2020 new generation Wiegand interface access control reader terminal for NFC card and bar code.
With RTMU86, we can pick up data from long decoded data. For example, if a barcode includes information: William zhang, 2345666677, ****224455555*.......... we can pick up number "34566667" or "23456666" or "5666677" from decoded information, and send it to the access controller.
Features
Capable to read both bar code and NFC card
The RT-MU86 can read 1d code, 2d and QR bar code, and NFC card. This makes it a two-in-one terminal.
Support Ethernet or Wiegand (optional)
Except for the USB (USB-HID) interface and RS232 interface, the RT-MU86 also supports Wiegand and Ethernet communication.
Holder design for easy installation
Just fix the holder in the wall via 2 screws, then fix the reader in the holder and lock it by the screw from the bottom, done.
Built-in relay
With a Built-in relay and 12V-24V wide voltage input, the RTMU86 can connect to the access control system directly, and no need for Voltage conversion equipment.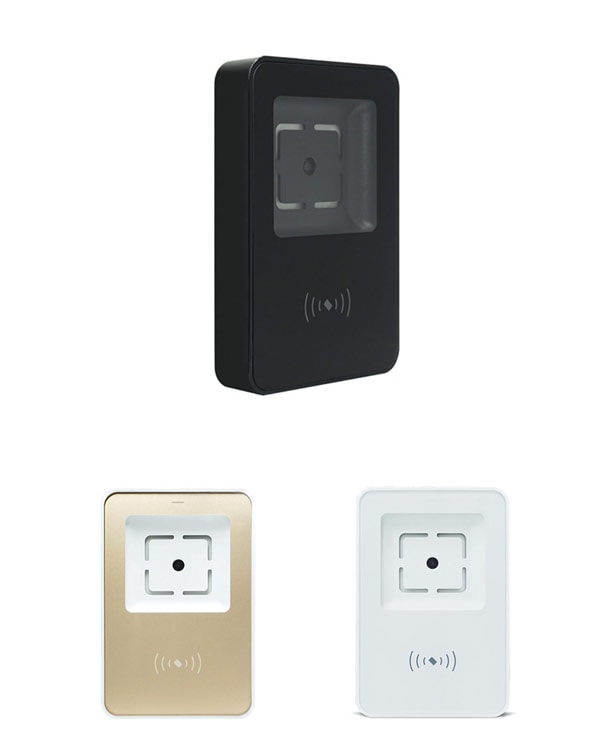 RT-MU86 Description
RTMU86 Tech Specs
Ethernet & Wiegand interface NFC and 2D barcode Reader: RTMU86
The RTMU86 is an RTscan's new generation Ethernet Wiegand NFC 2D barcode scanner, combine the Wiegand, Ethernet, NFC reader, barcode reader all in one, can be widely used for all kinds of access control projects. It's not only high performance but also very cost-effective.
Readable most 1D barcode and 2D barcode such as QR code, PDF417 code, Aztec... and readable either from LCD screen or from paper.
Performance

Image Sensor

640 * 480 CMOS

Reading distance

0-10cm (differ for different size code )

Reading speed

100ms per scan

Scanning window

60*56mm

Symbologies

2D

QR Code, PDF417, Aztec,etc.

1D

EAN-13 ISBN-10, CODE_39,CODE_93,CODE_128, ITF, etc.

Scan Mode

Sense mode: detect and read automatically

Scan Angle

Roll: 360°, Pitch: ±63.5°, Skew:±59.5°

Field of View

Horizontal 72°, Vertical54°

Resolution

≥7mil

Min. Symbol Contrast

25%

Mechanical/

Electric

Interface

RS485, Wiegand, Ethernet (Built-in Relay)

Dimensions

132mm*88mm*21mm

Weight

200g

Notification

Buzzer, Blue\white state indicator light, Red\green read indicator light

Operating Voltage

12V-24V

Current

100mA (Typically 12V)

NFC

13.56Mhz ID card

Only supports reading the physical card number.

Mifare_UltraLight, Mifare_One(S50), Mifare_One(S70), Mifare_Pro(X),

Mifare_Desire.

Environmental

Operating Temperature

-20℃ to 70℃

Storage Temperature

-40℃ to 80℃

Humidity

5% to 95% (non-condensing)

Environment illuminance

0~80000LUX (not direct sunlight)
RT840 Description
RT840 Tech Specs
RT840 is an two-in-one NFC barcode scanner, supports NFC reading, 1d / 2d bar codes reading.
It can read printed code from paper and code from mobile phone screen.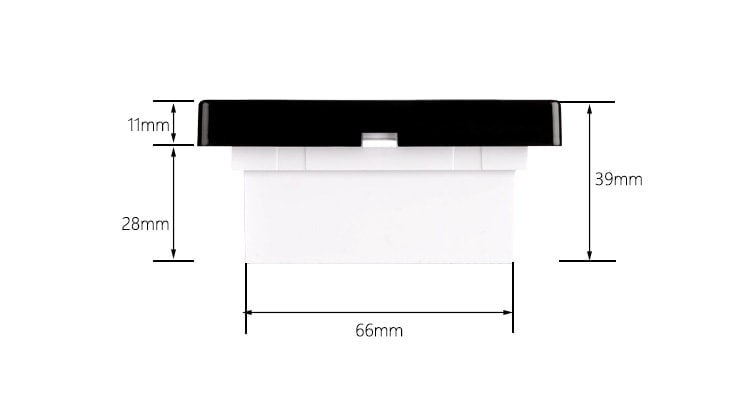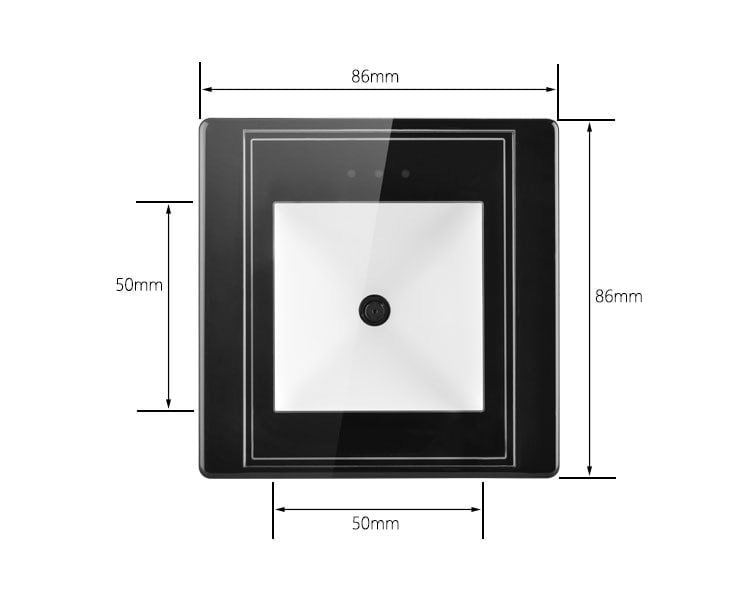 Mechanical

Dimensions (LxWxH)
86mm×86mm×39mm.
Scanning window
50*50 mm
Host System Interfaces
USB-HID, RS232, TTL, RS485, Wiegand

Scan Performance

Scan Pattern
Area Imaging & Automatic
Optical Resolution
640*480 pixels
Reading direction
≥ 30%
Reading speed
70ms per scan
Roll, Pitch, Skew
360°, ±60°, ±40°
Decode Capability
1D: ISBN-10,ISBN-13,EAN-13, EAN-8, Code39, GS1, UPC-A, UPC-E, Code128, Code93, etc. 2D: PDF417, QR Code, Data Matrix, etc.
Depth of field
0mm-100mm
Reading accuracy
7mil +
Electrical
Input Voltage
5 V
Operating current
150mA @5V
Indication
Buzzer and LED
LED
White illumination, Red/ Green/ Blue indicator

NFC

Frequency 13.56MHZ
Mifare_UltraLight, Mifare_One(S50),
Mifare_One(S70), Mifare_Pro(X), Mifare_DESFire

Environmental

Operating Temperature
-20°C to 70°C
Humidity
5% to 95% relative humidity, non-condensing
Light Levels
0 to 100,000 lux