Lectores de codigo de barras > OEM lector de codigos RT203
El RT203 es una nueva generación TTL OEM lectores de codigo de barras para codigos QR , codigos PDF417, codigos Data Matrix, codigos Aztec, MaxiCode ...Diseño pequeño y compacto para kioscos de autoservicio, POS terminal y otros terminals, puede leer códigos de barras de las pantallas y de los teléfonos celulares.
OEM lector de codigos de barras 2d
Diseño pequeño y compacto para kioscos de autoservicio, POS terminal y otros terminals
Es super sensitivo, veloz y con certera lectura
Especificaciones de interfaz: TTL; USB-HID,USB-Virtual Com y RS232
Antiknock diseño: soportar cayó desde 1,5 m de altura al pavimento de cemento
Puede leer códigos de barras de las pantallas y de los teléfonos celulares
Leer codigos qr, Datamatrix, Aztec, PDF417, code39, code93....
Introducción: OEM Lector de Codigos RT203
Readable most 1D barcode and 2D barcode such as QR code, PDF417 code, Data Matrix, Aztec Code, MaxiCode... and readable either from LCD screen or from paper.
It's outstanding for the capacity to read the Aztec Code, MaxiCode.
With small size(split type) 31.7mmX12.2mmX12mm(LxHxD), so you can use it whatever your device is kiosk, ATM , lottery ticket terminal, medical device, or mobile terminal.
The structure of the RT203 supports two mounting methods:
1. Two-in-one type, the decoder board and the imager are originally assembled as a whole on an L shape bracket and thus the user can just mount the whole bracket on the target device. The two-in-one type is easy for integration and is suitable for devices with enough space inside.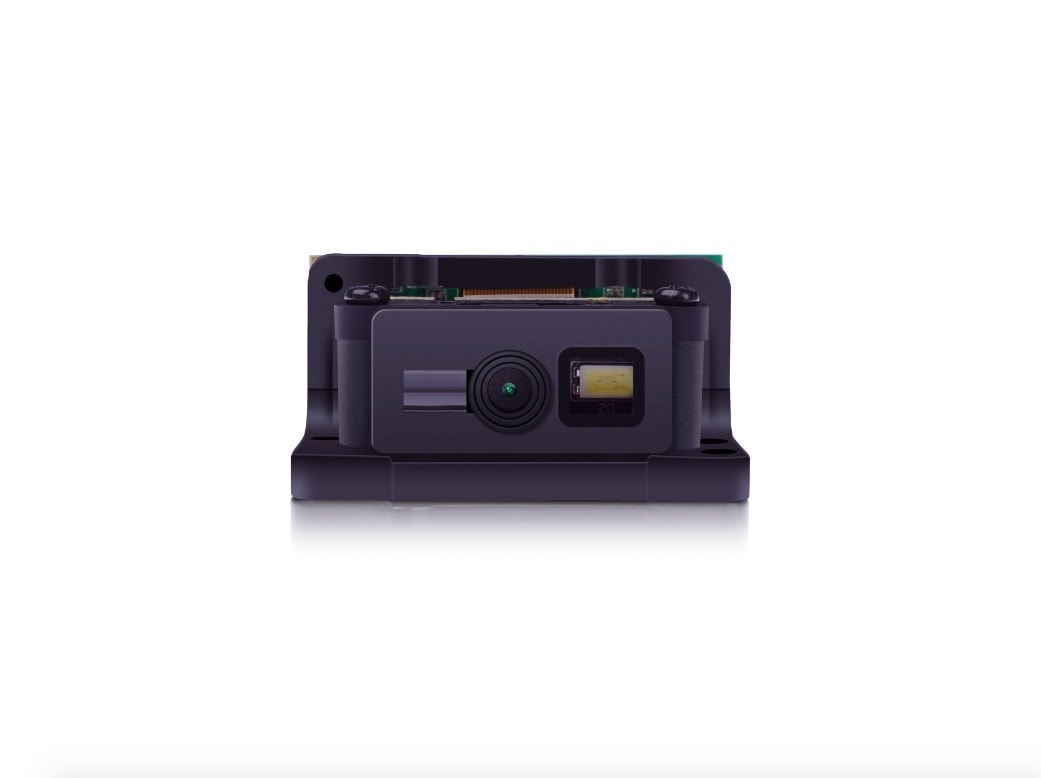 2. Split type: the decoder board and the imager are separately mounted and are connected with an FFC cable. The split type is more flexible for integration and suits devices with smaller space inside.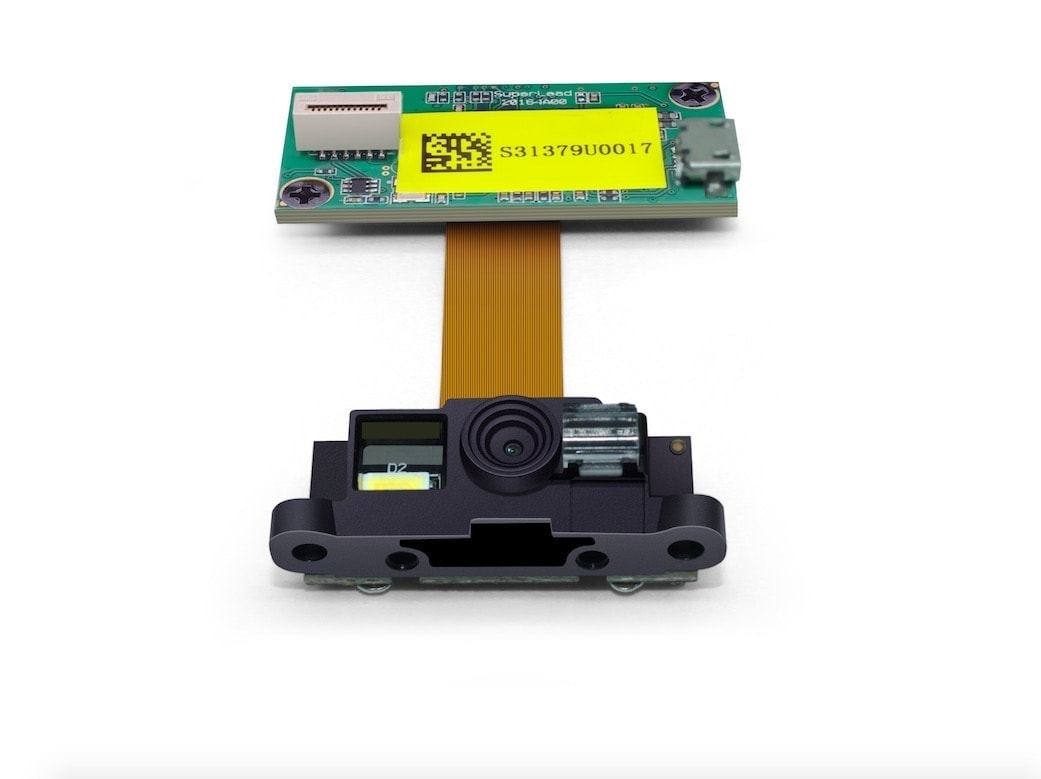 Integración
Proporcionamos el 3D-Drawing, Guía de integración que respalda su trabajo de integración con los terminales más fácil y rápido.
Por favor póngase en contacto con nuestro sales para obtener los documentos completos.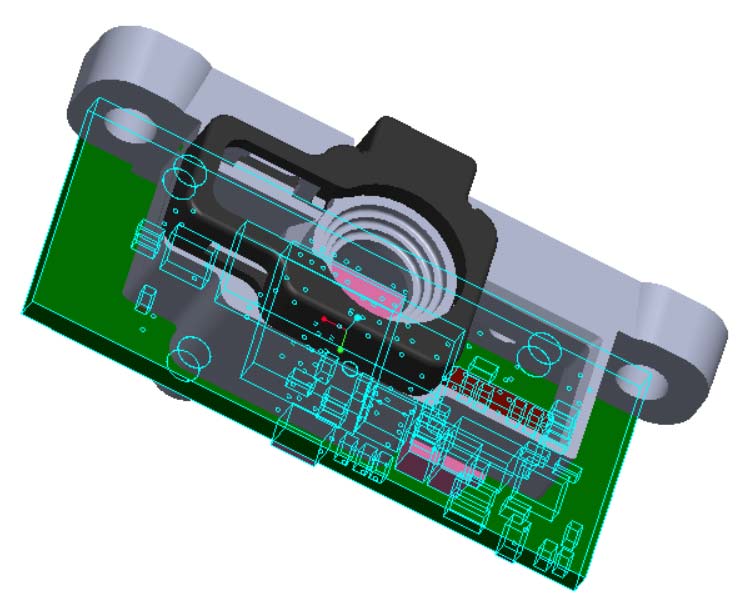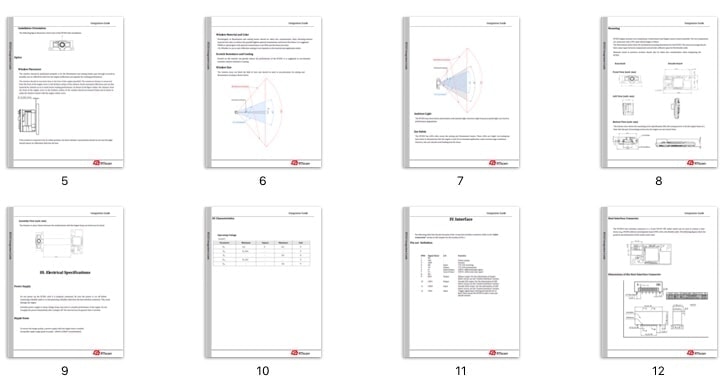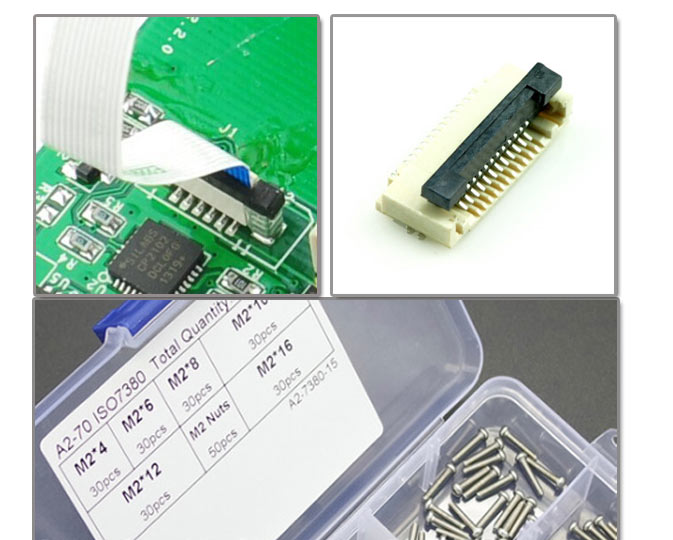 Accesorios de integración
Para facilitar la integración de nuestros clientes, proporcionamos tornillos, cables planos, conectores, USB / RS232 EVK (también lo llamamos placa de kit de desarrollo) y su esquema. Pero todos estos son opcionales, puede decirle a nuestro sales si los necesita o no cuando realiza el pedido.
Controle el módulo de escaneo de código de barras mediante comandos
Por ejemplo, podemos controlar la lectura / iluminación del escáner ... a través de enviar comandos al escáner. Proporcionamos una introducción detallada para hacerle saber cómo hacer el control del comando. Póngase en contacto con nuestra gente para obtener los documentos completos.
Y también ofrecemos una presentación de video para mostrarle cómo programar los comandos, por favor haga clic aquí para ver el video.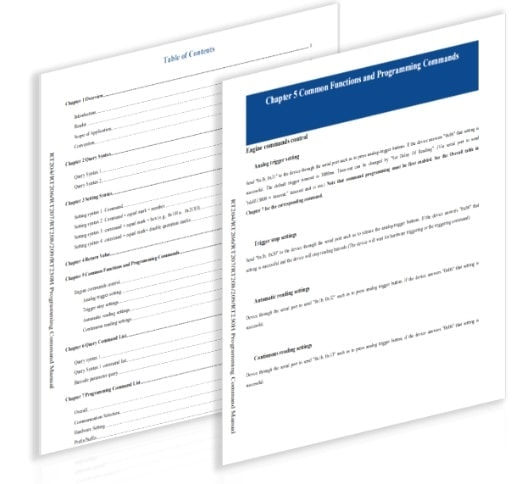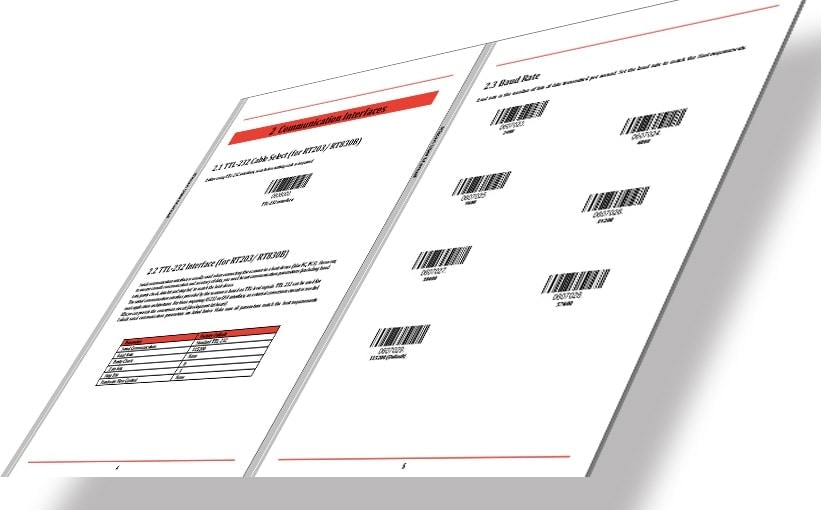 Programación de códigos de configuración
Para programar/configurar el módulo del escáner, puede hacerlo simplemente por escanear los códigos del Manual del usuario que le proporcionamos. Por favor solicite a nuestro sales el manual de usuario completo y detallado.
Especificaciones
Product Name

OEM 2d barcode scanner module RT203

Dimensions (LxWxH)

Scan head: 31.7mmX12.2mmX12mm(LxHxD)

Decoder board: 38mmX19mmX7.5mm

(LxWxD)

Weight

10 g

Electrical

Input Power

5 VDC ± 10% @ 260 mA

Operating Power

2 W (400 mA @ 5 VDC)

Light source

Aimer: 617nm LED

Host System Interfaces

TTL level serial. Or if with

emulation kit: USB virtual COM,

USB HID-KBW, RS232

LED class

EN62471:2008

Electromagnetic

compatibility

EN 55022,EN55024,EN 60950-1

Environmental

Operating Temperature

-30°C to 60°C

Storage Temperature

-40°C to 60°C

Humidity

5% to 95% relative humidity,

non-condensing

Drop

withstand 1.0 m drops to concrete on

each of the faces

Ambient light immunity

Immune indoor light up to 1600 Lux

and sunlight up to 86,000 Lux

Scan Performance

Scan Pattern

Area Image

Optical Resolution

640*480 pixels

Scan Angle

Omnidirectional

Symbol Contrast

25% minimum reflectance difference

Roll, Pitch, Skew

360, ±65°, ±60°

Motion tolerance:

Up to 25in. (63.5cm) per second

Decode Capability

1D: UPC\EAN with supplementals\ Bookland EAN\ ISSN\ UCC Coupon Extended Code\ Code 128\ GS1-128\ ISBT 128\ Code 39\ Code 39 Full ASCII\ Trioptic Code 39\ Code 32\ Code 93\ Code 11\ Matrix 2 of 5\ interleaved 2 of 5 Discrete 2 of 5\ Codabar\ MSI\ Chinese 2 of 5\ GSI DataBar Variants\ Korean 3 of 5\ ISBT Concat

2D: PDF417, Micro PDF417, QR Code, Micro QR, DataMatrix, Aztec Code, Maxi code

Warranty

1 year/12 months factory warranty
¡Contáctenos Ahora Para Obtener Muestras de Prueba!