Escaner DNI
,

Escáner para cédula / Carnet de identidad

IDe200 captura imágenes a todo color y también imágenes ultravioleta (UV) e infrarrojo (IR) de la tarjeta de identificación, cédula / Carnet de identidad o la licencia de conducir.

Es compatible con Reconocimiento óptico de caracteres (OCR, Optical Character Recongition) para la zona legible por máquina (MRZ, machine readable zone). Este dispositivo cumple con ICAO9303, y también es apoya la lectura de códigos de barras PDF417.

Se diseña para uso sobremesa y incrustrado en quioscos.
Contáctenos Ahora!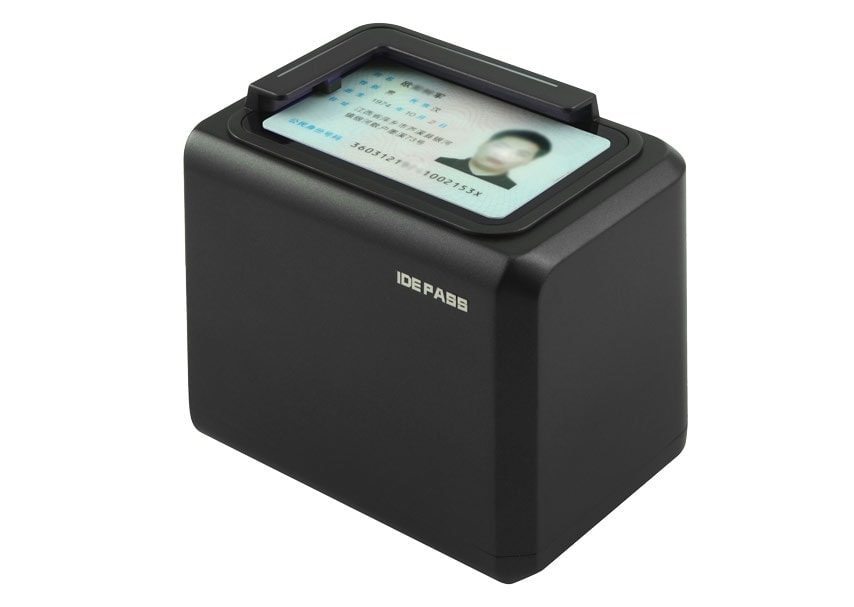 El IDe200 Foto Escaner de DNI captura una imagen a todo color junto con imágenes ultravioleta * (UV) e infrarroja (IR). Este dispositivo es diseñado para sobremesa integrado.
Cuando se presenta una tarjeta de identificación al lector, la fotografía de la tarjeta se detecta automáticamente, y puede mostrar el retrato del titular y las imágenes de la tarjeta al mismo tiempo. Al leer una licencia de conducir o una tarjeta de identidad que cumpla con la ICAO, el Photo ID Reader también decodificará su zona de lectura mecánica (MRZ).
Function

Usage

Specification

Standard OCR reader

1D/2D bar code reader

• ID card

• Driver license

• ICAO9303 td1, 3 line MRZ

• 2D:PDF417,GM,QR,DM

• 1D:Code39,Code128,Codabar,EAN-EAN-13,ITF

Light Source

• White

• UV

• IR

• Color Image

• Ultraviolet Image

• Infrared Image

Scan speed

• Color+ IR

• Color+ IR+UV

• Less than 0.7s

• Less than 1s

*Would be a little different with different computer.

Scan Mode

• Software trigger

• Auto mode

• By scan button in software interface

• Automatic card placement detection and read;

Resolution

• 3M Camera

• 460 DPI

Power Supply

USB Supply

• USB, no external power needed

Communications and host

•Communication

• Host

• SDK

• USB 2.0 high speed

• No driver is required, compatible with most of OS: Windows, Linux, Android, Mac; But SDK is based on Windows only currently.

• Free SDK/ license included, Supports to pick up name, id number from MRZ data, and decode bar codes

Mechanical/ Electric

• Dimensions

• Weight

• Notification

• Window

• 13.4(W)×9.4(D)×11.4(H)/cm

• 300g

• Beep, LED indicator

• Anti-scratch glass
Caracteristicas
1. Escáner de imágenes:
Escanear toda la página de los documentos de identificación, como la tarjeta de identificación, la licencia de conducir y la tarjeta de seguro... y obtenga imágenes en color, infrarrojos y ultravioleta
Alta calidad de imagen óptica: 300 dpi
2. OCR, documentos legibles:
Doc9303 de la ICAO (tamaño de TD1) - 3 líneas MRZ para tarjeta de identificación / licencia de conducir (se usan 3 líneas MRZ para muchas tarjetas de identificación nacionales o licencias de conducir, como la tarjeta de identificación en Italia, Letonia, Holanda, Polonia).
El sensor de luz infrarroja permite la calificación de OCR
3, Lectura de 1D/2D códigos de barras
La cédula de identidad o la licencia de conducir de muchos países incluyen el código PDF417, por ejemplo la cédula de identidad de Colombia, Chile, Paraguay, Perú, Egipto etc....
Escanear y descifrar los códigos de barras 1D y 2D , se incluye :
2D: PDF417, GM, QR, DM
1D: Code39, Code128, Coda bar, EAN-8, EAN-13, ITF
Aplicación:
Acceso de control, sistema de vistante registro
La aduana y el punto de chequeo
El registro de entrada en el aeropuerto
El sistema de registro en banco mostrador
El sistema de gestión para gestionar clientes
Integración en automático quiosco terminal
El sistema de registro en restaurante, hotel, duty-free tienda
El cliente identidad registro sistema por Casino, bars etc.
El sistema de gestión de pasajeros en la estación de tren, metro y autobús
Telecom cuenta servicio systema
Oficial organización y el NGO populación gestión.
Cambio de moneda