Photo ID Scanner: ID Capture 100
The ID Capture 100 captures full color image and also ultraviolet (UV) and infrared (IR) images of ID card or driver's license.
It supports Optical Character Recongition (OCR) for machine readable zone (MRZ) which is ICAO9303 compliant, and also supports PDF417 bar code reading.
Its designed for both desktop and kiosk embedded use.
Contact Us Now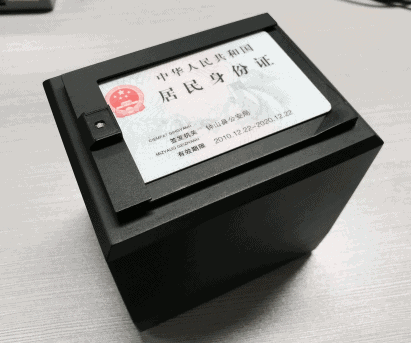 The ID Capture100 Photo ID Reader captures a full-color image of the ID card together with ultraviolet* (UV) and infrared (IR) images. This device has been designed for desktop and embedded.
When a photo ID card is presented to the reader the photograph on the card is automatically detected, allowing both the holder's portrait and card images to be displayed right-way-up. When reading an ICAO-compliant driving license or identity card the Photo ID Reader will also decode its machine readable zone (MRZ).
Function

Usage

Specification

Standard OCR reader

• ID card

• Driver license

• ICAO9303 2/3 line MRZ

Light Source

• White

• UV

• IR

• Color Image

• Ultraviolet Image

• Infrared Image

1D/2D bar code reader

• ID card

• Driver license

• 2D:PDF417,GM,QR,DM

• 1D:Code39,Code128,Codabar,EAN-EAN-13,ITF

RFID read

• E-ID Card

• ISO14443 Type A/Type B

Resolution

• COMS

• 300 DPI

Power Supply

• Power adapter

• Optiona;USB Supply

• Power adapter: (Input:100-240V, AC 50/60Hz,Output:5V, DC 1500mA)

Communications and host

• Communication

• Host

• USB 2.0 high speed

• Host OS Windows XP/7, / Win 32/64 bit;

• Pentium-4 3GHz and 2GB RAM minimum

Environmental

• Temperature

• Humidity

• Storage: 0 OC to 60 OC

• Operating 0 OC to 50 OC

• 0 to 95% non-condensing
Features
Scan full page of ID documents like ID card, driver license, insurance card and get Color, IR and UV images
High optical picture quality - 300dpi
2. OCR ,Readable documents:
ICAO Doc9303 (TD1 size)- 3 lines MRZ for ID card/Driver license (many country's national ID card or driver license printed with this 3 lines MRZ, like ID card in Italy, Latvia, Netherlands, Poland).
Infra-red light sensor allows for qualification of OCR
3. 1D/2D barcode reading:
Many countries's national ID card or driver license printed with PDF417 code, like ID card in Colombia,Chile, Paraguay,Peru,Egypt...)
Scan and decode 1D and 2D bar code, including:
2D:PDF417,GM,QR,DM
1D:Code39,Code128,Coda bar,EAN-8,EAN-13,ITF
Applications
Access control and visitor registration system
Custom and check point management
Airport check-in counter application
Bank counter user information registration system
Securities company customer management system

In

tegration into self-service kiosks
Restaurant front desk registration system
Hotel customer information registration system and public security management
Duty-free shop customer information registration system
Customer identity management system for casino, night bar, VIP club and other occasions
Train and bus station passenger management
Telecom service account application system
Official organization and NGO population program management
Currency Exchange